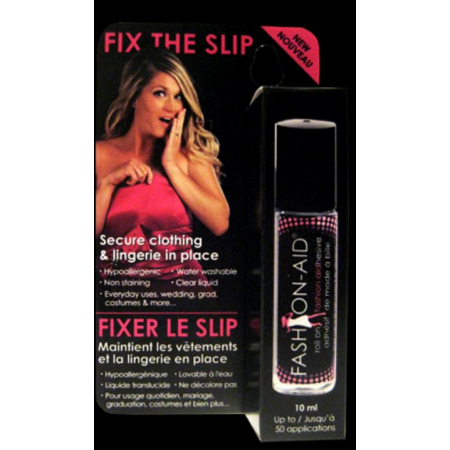 Product Details
FASHION-AID® is known as the best "fix for the slip". It is a roll on fashion adhesive that eliminates wardrobe malfunctions by instantly securing your clothing and lingerie to your body. Simply roll on this translucent, hypoallergenic, water washable fashion adhesive to your skin and secure slipping bra straps, strapless, off the shoulder, low neckline, revealing styles of clothing, wedding gowns, prom dresses, costumes and more. It's that easy to solve the everyday uncomfortable and embarrassing wardrobe malfunction!
"Perfect for your worry free wedding and graduation", as mentioned in FLARE Magazine Online.
FASHION-AID is a roll on fashion adhesive that women can't live without!
Price

$

13.00

CAD